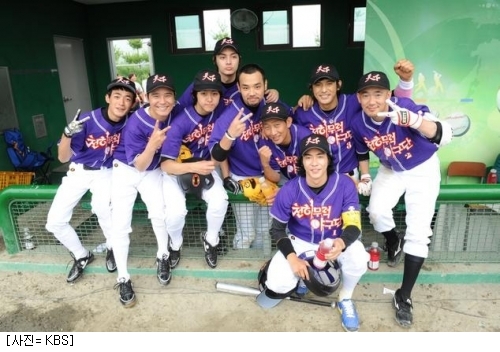 KBS2 'invincible Saturday - Invincible baseball' (hereinafter cheonmudan) the end of this year's broadcast season ends.
8 days KBS official said, "'baseball team invincible' (MC Baek Ji Young, yihaneul, Killers, Carcasses, Oh Ji Ho, hanmingwan, Joon Kim, Mario, hu, yihyeonbae, Kim, jobin, yigyeongpil, Huh, Kim Dong Hee, Tak Jae Hoon, Kim Hyun Chul, imhyeongjun) is introduces greater significance than the ratings, but due to various internal matter later this year decided to put an end to the broadcasts, "he said.
The official continued: "Baseball is not the game of maintaining the winter season training camp last winter due to the limits reached out a broadcast naetjiman seemed finally make a decision like this," he said.
'Cheonmudan' Saturday afternoon SBS 'stockings', MBC 'Infinite Challenge' and will compete in a record low ratings somewhat, but adults with a baseball boom in 'Field of Dreams' is in progress to establish the topic attracted to blow.
The 'cheonmudan' and 'Field of Dreams' donation to build the various activities, including actively unfold by introducing a warm appearance caught the attention of viewers.
According to the official "'cheonmudan' progress was the long-term project 'Field of Dreams' will be built separately and constantly push" and "special program organized to showcase the results," he said.
The 'invincible Saturday - Invincible baseball' subsequent military Variety myeongbatatseupnida 'from the new year will find an audience.
Cheer Up Jun...



---
Permissions in this forum:
You
cannot
reply to topics in this forum